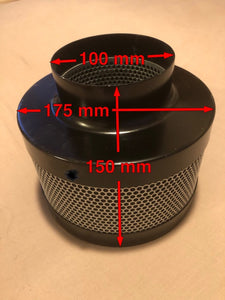 Compoost Toilets Ltd
Carbon Filter 150mm high (same size as Foxes Afloat YouTube vlog)
Regular price
£27.00
£0.00
Unit price
per
Tax included.
The filter is made from an Australian-mines RC412 carbon, the best in the world. The carbon is tightly packed and sealed into a high-efficiency airflow cylinder with a vortex cone in the base for maximum transference.
Features
• Australian mined RC412 activated carbon
• All Carbon Filters are machine packed to give less movement and more compact carbon
• Coned internal base for optimum air flow
• Life span of 9- 18 months
• Black powder coated spigot and base.
Please note that if you have bought a filter you will need one of our ducting kits to connect the filter

---